Today Rawbust Productions shares with you some intallect on how to best position your company or brand. Not only are we the fastest growing online portal with more than 5K new followers per week we are also a high end events management company and today we educate you on how to stand out of the crowd.
I'm going to break-down intellectually a part of the reasons why Cassper Nyovest has managed to break boundaries and become the idol and inspiration that he is today by successuffly pulling an iconic event.
Firstly let me introduce you to Simon Sinek: Simon is a New York Times best-Selling Author, Motivational Speaker and Marketing Consultant. He gave birth to the Golden Circle model, which is a model which explains why consumers buy into certain products and services, regardless of price and "perceived" quality. Did you know there are products which cost the same to produce but prices differ by more than 10 times?
With the Golden Circle, Simon describes what is it that fuels human motivation, to me this golden circle breaks down so vividly the reason why most people make it and why some don't. It's used mainly in product positioning, mission setting and for marketing purposes. This can however be used to explain a lot of phenomena besides organisational matters, because we are Genius we are gonna use this to explain why some Hip-Hop artists make it and why some don't regardless of their talent and work ethic.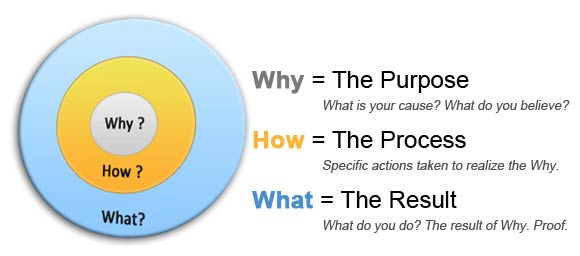 This model is a universal model used mainly by top companies is trying to communicate their purpose to their customers, very few companies are able to answer the 'WHY' question, which is what speaks to the consumer. As Simon Sinek puts it: the WHY is the reason some customers line up for hours whenever a new iPhone comes out, or why some people line up for hour whenever a  new Nike sneaker comes out. If you look at most of your highly capitalized and successful companies, they manage to show to the world WHY they do what they doing. The below is apple's mission statement which answers the WHY question. Their ability to answer the WHY question puts them ahead of the pack.
"EVERYTHING WE DO, WE BELIEVE IN CHALLENGING THE STATUS QUO. WE BELIEVE IN THINKING DIFFERENTLY. THE WAY WE CHALLENGE THE STATUS QUO IS BY MAKING OUR PRODUCTS BEAUTIFULLY DESIGNED, SIMPLE TO USE, AND USER-FRIENDLY. WE JUST HAPPEN TO MAKE GREAT COMPUTERS. WANT TO BUY ONE?" APPLE
Notice how they answer teh WHY first and towards the end they briefly explain the HOW and WHAT.
"People don't buy WHAT you do they buy WHY you do it" with this being the case, we all need to define specifically why is it that we do what we do in order to have a purpose and vision that everyone can identify with and share. This talks to the emotion, human beings are emotional beings, the WHY factor speaks to the emotional censoring part of the brain (Limbic brain) that makes all decisions; in this case being the decision to buy product A over product B.
Because we are Genius we have adapted Simon Sinek's Golden Circle so as to explain why some rappers gain more success than others, this is so Genius it literally gives that spine chill effect as you go through it.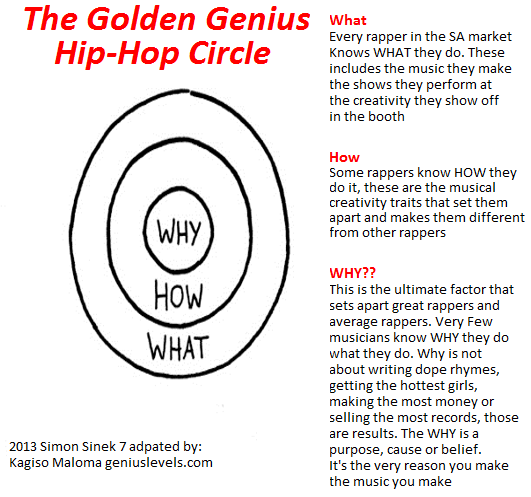 "PEOPLE DON'T BUY WHAT YOU DO, PEOPLE BUY WHY YOU DO IT" SIMON SINEK
From the very first track on Tsholofelo titled "I hope you bought it", Cassper manages to communicate ever so effectively why he does what he does. My view is he has been able to break so many records due to his ability to speak on the WHY statements. The title of this album also gives a profound meaning to his hustle, "Tsholofelo" is a Tswana name which means "Hope" in English. The greatest thing you can ever do in promotion of your personal brand is to tell your story and give it meaning, a perfect example is how he Cassper chooses hi album titles, they all tell a story. Don't tell me what you have, tell me what you are gonna do, people relate easily to you when you speak from the heart and you share with them your ambitions, your dreams, this in-turn makes you easily relatable.
"LEAVING A SYSTEM OF SAFE COZ IMA RAP"
"BUT I GOT HISTORY TO MAKE THOUGH"
"EUPHONIK TOLD ME THAT RAP DON'T MAKE MONEY WANNA PROVE HIM WRONG, WONDER WHAT THAT'S GONNA TAKE FROM ME"
"IM ON THE GRIND FOR GOLD-EARTH, THE BROKE HAVE NO WORTH, WELCOME TO THE CITY OF JOBURG."
"HOW IS IT MY LIFE IF I LIVE BY YOUR RULES"
"NTWANA MUFF-TOWN KYO KAI MAMELA, PHAK'MISA KASI LET IT GROW CLIMB THE LEDDAR, I JUST WANTED TO SPIT DOPE RHYMES MAMELA"
"THEY SAY MY KIND DONT FIT IN SO I FORCED IN, COZ I BELIEVE IF I DONT QUIT I'LL GET A PORTION"
"I'M TRYNA MAKE ENOUGH TO CHANGE MY WHOLE FAMILY MEMBER'S LIVES BEFORE I'M 6 FEET UNDER"
The above lines are from his first album, they all focus on the why statements, there are so many why statements in that album that I cant cover all of them, just listen and you will see how powerful words are. I picked the first album as I feel your debut project depending on how good it is, will set a root base for your career in the industry.
Simon Sinek goes on to explain how the brain is engineered in a way that it responds only to why statements.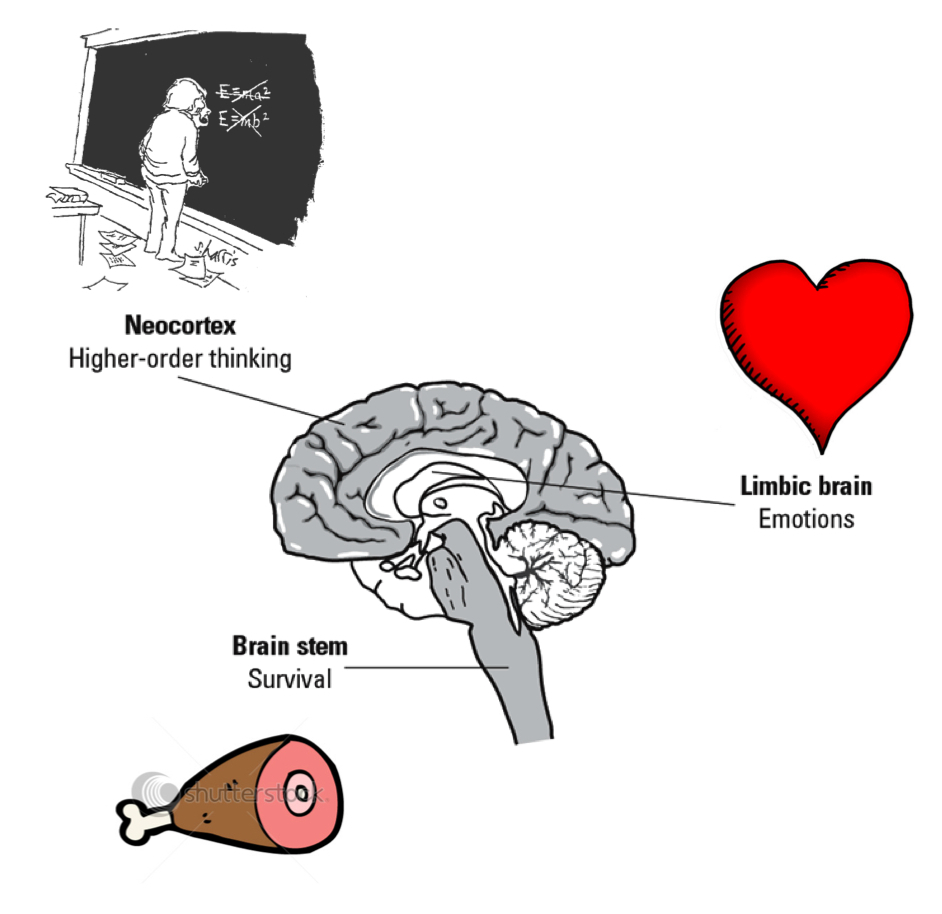 The Neocortex brain is the higher level thinking brain, it understands language, figures and is rational. the Limbic brain on the other hand has no capability of understanding language or number analysis, its responsible for all of our emotions being trust, love, lust, hate, etc. This portion of the brain is mostly responsible for human behavior, all decision making is as a result of this portion of the brain, and here's the best part, it responds only to WHY statements. To summarize this, what it means is that, to reach out to people and make them be inline with your ambitions and all that you are communicating to them, you will have to directly aim for the Limbic brain which responds only to heart felt WHY statements.
What are your ambitions? Paulo Coelho once said "when you want something, all the universe conspires in helping you to achieve it"…. speak of your dreams and the world will follow….
Cassper Nyovest always manages to speak in a way that speaks to the Limbic brain, he tells us what he wants to do and emphasizes always why he wants to do it. Big ups to the brother for #FillingUpFNB with 68 000 people! The African child is watching and we are all inspired and motivated, having grown up in a country that treats you like a second class citizen, we appreciate and salute individuals like Cassper and Vusi Thembekwayo for making us all realise that we are just as good as any other race.
Never stop dreaming and be daring in your approach!!