The most stylish kids to follow on Instagram.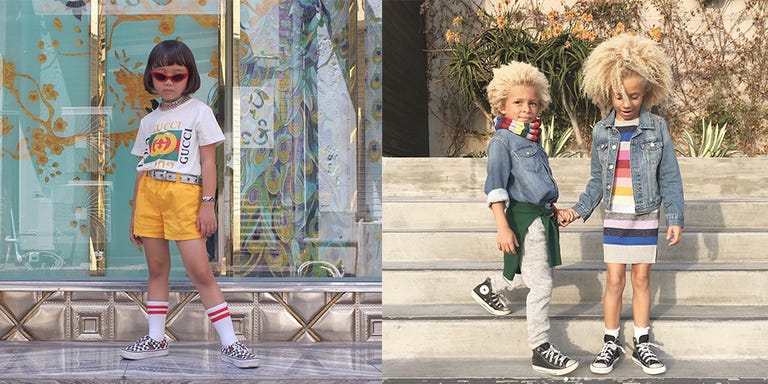 These young fashion bloggers may not always be dressing themselves, but one thing they definitely know is how to work their looks. From sibling duos to Gucci-clad tots, here are 15  fashionable kids to follow on Instagram. I swear even adults will want to copy their outfits
Stella and Blaise
This brother and sister sibling each have their own unique sense of style and look that works perfectly together—but they also know how to rock a matching look just as well.
Vada
At only four years old, Vada's wardrobe is already more well-rounded and diverse than most of us. Her younger sister Nova also makes stylish appearances on her mom's page as well.
Prince
From very trendy and expensive Gucci hats to eclectically-styled looks, Prince not only has an incredible wardrobe, but also the sweetest poses to ssupport it.
Along with Mila's hilarious videos that almost always go viral, she and her twin Emma serve up some serious style and extra sassy poses on their mom's Instagram.
Coco
This 6-year-old, Tokyo-based Instagram star is already a style force to be reckoned with. She has thousands of followers and scoops many likes than many adults can ever imagine. From her knack for layering to her eccentric accessories, Coco is the fashion risk-taker we all wish we could be.
Elle
This stylish tot already has her blogger pose down pat—and a fun-filled wardrobe to back it up. The energy is apparent and not questionable.
Alonso's mom, Luisa Fernanda Espinosa, has shown off her son's impeccable style since he was a toddler. Coming into his own now, the dapper young boy rocks Gucci and loafers like you've never seen before.
London Scout
The 5-year-old London Scout has New Yorker style on lock with an array of leather jackets, sweet dresses and accessories that will make you jealous. Plus, don't miss Scout showing off her incredible walk-in closet for BAZAAR here.
Zuri
With the coolest '90s-inspired style and the best sassy pose, we could all take style lessons from Zuri.
From knitwear essentials to clean lines, this Swedish baby blogger is an expert when it comes to minimalism.
Haileigh
As young as 8, Haileigh's resume already boasts designing, modeling and acting gigs—and she has got just the right amount of sass and looks while showing off her daily outfits.
Laerta
Laerta accessorizes with both baby Chanel bags and stuffed animals—which is no easy task. The pose does the much needed justice to the outfit. From tutus and Timberland's to high socks and fur jackets, she definitely knows how to have fun with fashion.
With a wardrobe consisting of denim and camouflage, the coolest shades and kicks, Ryan is a menswear style star in the making.